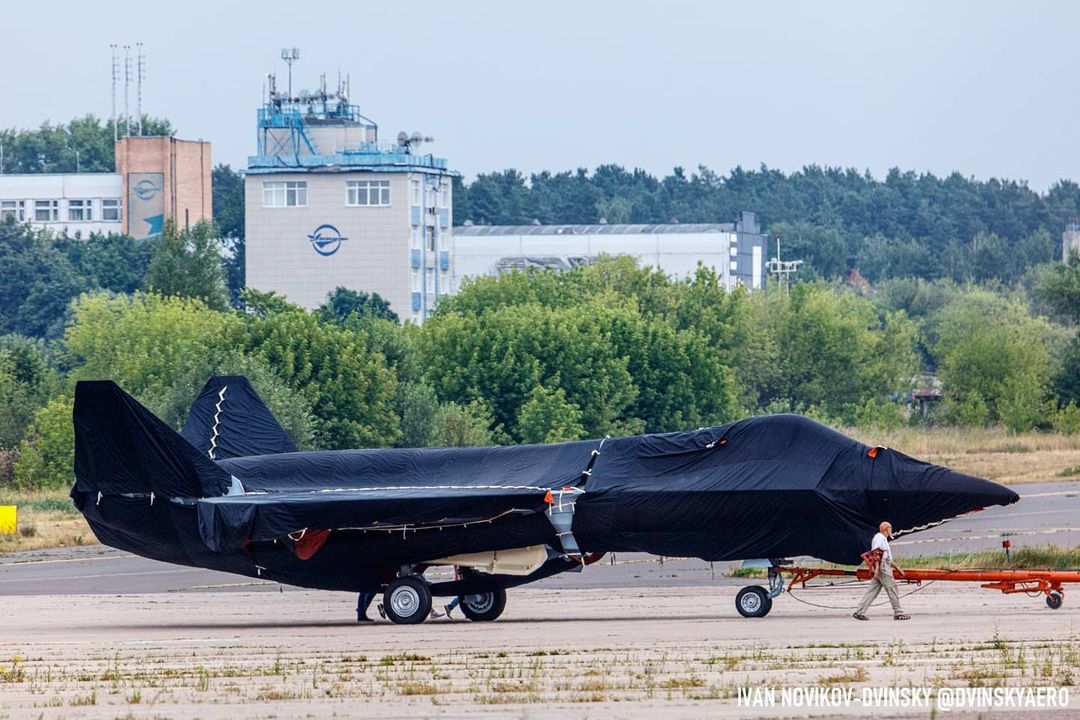 Via Twitter
Introduction
Russia's Sukhoi is company funding development of a LO supermaneuverable optionally manned single engine lightweight (18 t) Mach 2 fighter that will be unveiled at MAKS 2021
On July 12, 2021, days ahead of MAKS 2021, Russia's Rostec announced:
"The United Aircraft Corporation will present a fundamentally new military aircraft on July 20 - on the first day of the MAKS-2021 International Aviation and Space Salon in the city of Zhukovsky"
Rostec also released the following teaser video
Ростех представит на МАКС-2021 принципиально новый военный самолет ОАК - YouTube
The video suggested that the new fighter was pitched at countries like India, Vietnam, Argentina and the UAE.
( I believe a LO short range super maneuverable fighter better meets IAF's defensive requirements that fighters such as F-22, F-35 or Su-57).
A day later, photographs of the fighter (or its mockup?) being towed ensconced in a shroud appeared on the web.
Features
Going by the photograph above and the teaser video on YouTube, Russia's "Checkmate" features a LO V-tail that would provide some degree of yaw and pitch control. Additional yaw and pitch control required for super maneuverability would likely be provided by thrust vectoring.
Surprisingly, based on the photograph above, the fighter does not feature stealthy shaped exhaust. The S-70 Okhotnik was shown at MAKS 2019 with shaped exhausts.
History
Russian aviation industry officials have alluded to a new LO fighter since 2017 (with development having started in 2015), yet western media, inclined to be in denial of Russian advances in aviation technology, was completely surprised by the new Russian stealth fighter. It's likely, Western intelligence too was caught off guard. As such, Russia's chosen name for the fighter - Checkmate - is doubly apt.
On May 26, 2021, TASS reported quoting an industry source that Russia is
developing its first single-engine low-observable light tactical fighter aircraft.
"The Sukhoi company is developing a single-engine light tactical plane with the takeoff weight of up to 18 tonnes. The plane's maximum speed will be above 2 Mach. It will also have super-maneuverability and improved takeoff and landing performance, thanks to a thrust vector control engine. The plane's thrust-to-weight ratio will be above 1," the source said.
In December 2020, Rostec CEO Sergei Chemezov told reporters that the company was working on the concept of an advanced, optionally manned, single-engine light-and medium-class.
"Work is underway to develop a combat aviation system of the future in its light and medium classes. Under the design, this may be a universal platform in the manned and unmanned versions. The company is working on the concept and the operational requirements for such a platform. We are doing this on our own initiative so far, without [federal] budget funds," the Rostec chief said.
In a news report on May 25, 2020, Pravda reported that Russia started development of a multi-purpose stealth fighter - MiG LMFS - in 2015. The fighter is conceived as a replacement for the MiG-29 and MiG-35 aircraft and will be based on the technology used for the development of the Soviet MiG-1.44, which was far ahead of its time.
"MiG-LMFS" is designed with front horizontal stabilizers. They will be placed just above the wing to stabilize air flow in front of it. As it is believed, the aircraft should have a triangular wing and a V-tail. With a takeoff mass of about 15 tons, it will be able to take up to 5 tons of payload, for example, medium-range K-77M missiles.
The airplane will be armed with a 30 mm caliber cannon. The fighter is to be equipped with two VK-10M turbojet units with a total thrust of 20 tons. In the future, a single Product-30 engine with the afterburner power of 18 tons can be used. This engine was developed for the Sukhoi Su-57 fighter and currently undergoes flight tests.
The MiG-LMFS would feature internal carriage of weapons, have a range of 4,000 km and a top speed of 2,500 kph.
Earlier in 2017, Sergey Chemezov, the head of Rostec, told reporters about plans to develop a 5th gen fighter based on the MiG-29 with the United Arab Emirates.
Kravchenko confirmed MiG was involved on three major development programs — a "prospective plane," a long-range interceptor and a UAV — but would not elaborate on activities related to a potential fifth-gen jet. [source]