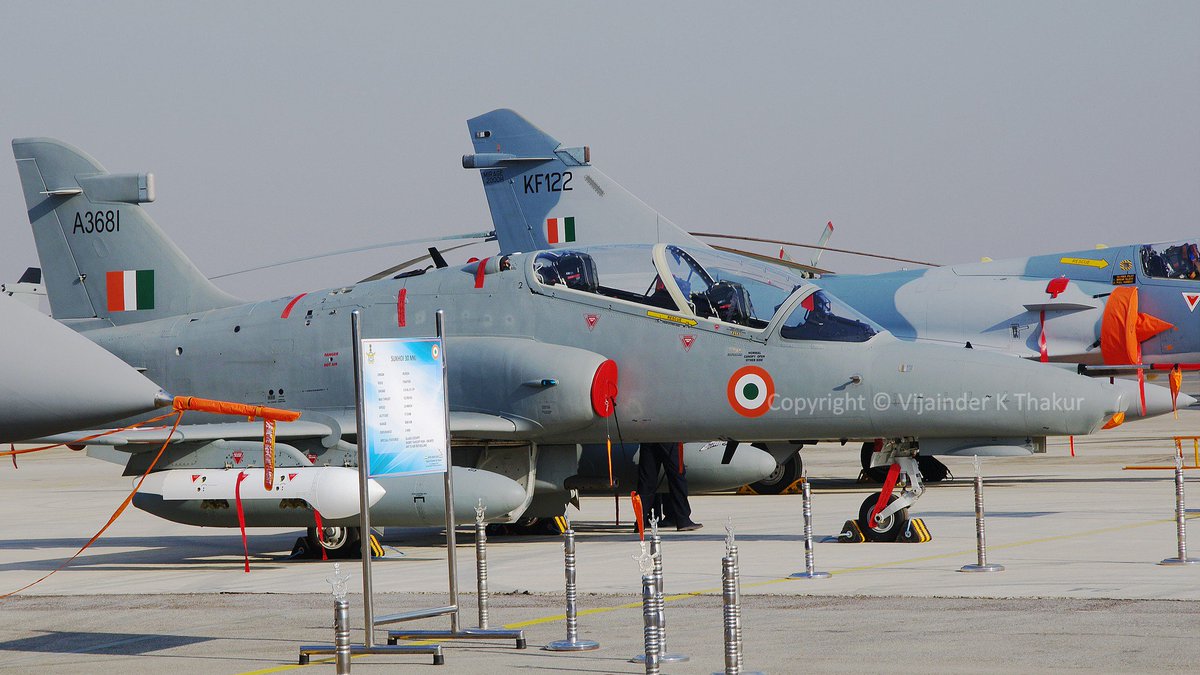 Hawk Mk.132 AJT at Aero India 2015

with CBLS (Carrier Bomb Light Stores)

on outer pylons.
HAL and BAE have plans to co-develop in India a combat variant of the Hawk AJT for use by the Indian Air Force, as also for export to friendly countries.
In May 2015 HAL and BAE Systems UK signed a MoU that included development of Combat Hawk besides upgrade of Hawk Mk132 and maintenance solutions for supporting Jaguar and Hawk fleet.
HAL and BAE Systems discussed the Combat Hawk in London during Prime Minister Narendra Modi's visit to the UK in November 2015.
A BAE Systems' Director of Hawk Aircraft Programs, Alun Fishburne, recently told Janes.com that his company is negotiating sale of additional batches of Hawk training aircraft to India, beyond the order for 20 Hawk Mk.132s for the IAF's Surya Kiran team currently being finalized.
The BAE official's reference to additional batches suggests that Indian procurement would go beyond attrition replacements.
HAL and BAE's enthusiasm notwithstanding, the project to co-develop the Combat Hawk makes no operational sense.
As a Lead In Fighter Trainer (LIFT), the Hawk Mk132 is already capable of carrying a wide variety of external stores for weapon release training. The aircraft reportedly has 7 hard points to carry external stores with a possible 12 types of combinations to carry the stores.
The proposed Combat Hawk will likely feature:
An advanced weapon aiming subsystem
Tighter integration of the weapons and cockpit avionics
An integral gun
Other possible feature could include:
A laser rangefinder for more accurate weapon delivery
A TV camera for easier identification of targets
Close Combat Missiles
A refueling probe
Considering that the Hawk is a single engine aircraft with a low thrust to weight ratio (0.65) the Combat Hawk would at best be a counter insurgency (CI) aircraft.
The problem is, the IAF has no need for a CI aircraft! The IAF is not tasked for CI ops and has shied away from the role in past and ongoing insurgencies, with good reason.
What the IAF needs is a dedicated Close Air Support (CAS) aircraft capable of operating in the mountains along the LoC and LAC. A dedicated CAS aircraft needs the safety of two engines, a design optimized for absorbing punishing ground fire, a titanium bathtub to ensure crew safety, a high T/W ratio to ensure good maneuverability in narrow valleys at high altitudes, and adequate Suppression of Enemy Defense (SEAD) capability. The Combat Hawk will have none of these features.
Yes, the IAF has no need for the Combat Hawk. As to export...really?
Clearly, the Combat Hawk is being pushed by HAL for self serving reasons. HAL has stabilized local assembly of the Hawk after a lot of struggle. Additional IAF Hawk orders would ensure easy profits for the very inefficient public sector behemoth for many years running. Despite having struggled with just the local assembly of Hawk Mk132, HAL is disingenuously projecting Combat Hawk as the next big Make-in-India success story.
Mislead by the HAL, the government may well go along with the Combat Hawk project, since it would also keep the UK happy. If that happens, it would be a case of diplomacy dictating defense capability, not the other way around, as it should be!