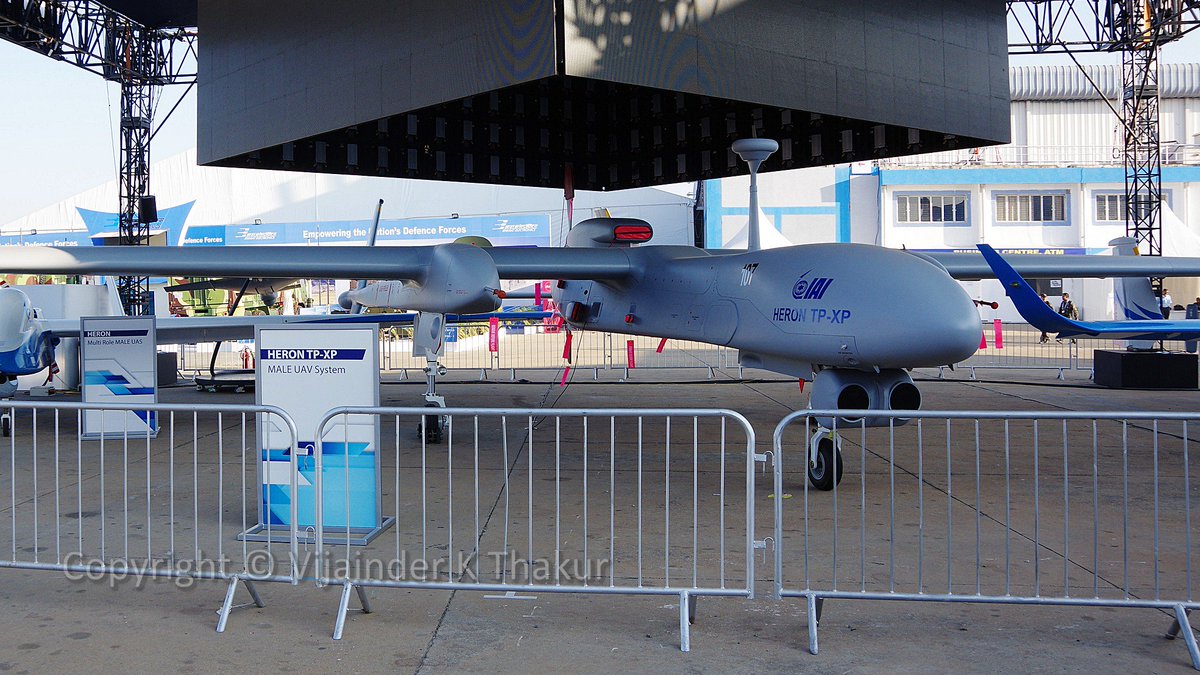 Heron TP-XP at Aero India 2017
IAI (Israel Aircraft Industries) introduced the Heron TP-XP, a special export variant of Heron TP, at Aero India 2017 in Bengaluru, India. (The 'special' probably refers to a customized IAF variant.)
The Indian MSM's (Main Stream Media's) stress on the Heron TP-XP's attack capability is rather misleading. The acquisition has a strategic dimension that is much more important.
The
IAI website
states that "Heron TP-XP, the latest derivative of the Heron family, is an advanced long range, long endurance (MALE) UAS, designed to perform a variety of strategic missions with a high level of reliability."
An
IAI press release
before Aero India 2017 stated that the "Heron TP-XP constitutes a multitasking, multi-payload strategic air superiority aircraft, integrating the most advanced of IAI technologies."
Notice that the word strategic features in both statements describing the Heron TP-XP. The word armed features in neither.
The reason isn't difficult to understand. With its 30-hrs plus endurance, 45000-ft operational ceiling, and all weather, day and night surveillance capability the Heron TP-XP is a veritable satellite that can be stationed above a battlefield.
EO (Electro Optical) / IR (Infra-red) sensors under its fuselage provide real-time vision of the battlefield under all lighting conditions. A LRF (Laser Range Finder) facilitates precise distance measurement to provide real time targeting information using a satellite communication link.
A LD (Laser Designator) allows a target to be illuminated for stand-off strike by a fighter aircraft using laser guided bombs.
For surveillance, the TP-XP can be fitted with a Synthetic Aperture Radar (SAR) or a MPR (Maritime Patrol Radar).
ELINT / ESM payloads facilitate electronic snooping and spoofing.
If you don't find the above roles strategic enough, here comes the clincher. The Heron TP is capable of missile defense and may just be the platform to put some sense into tactical nuke brandishing adversary generals! A Heron TP would be able to detect a Nasr TEL (Transporter, Erector, Launcher) much before it comes within striking range of an advancing armor column, allowing the TEL to be targeted using coordinates beamed by the UAV
There would be other significant pay-offs from the Heron TP acquisition. The UAV features ATOL (Automatic Taxi-Takeoff and Landing) systems and triple redundancy for maximal safety and reliability, features that DRDO is desperately trying to incorporate in its Rustom-2 MALE UAV.
It's clear that the purchase of 10 Heron TP-XP MALE UAVs from Israel's IAI would be a landmark acquisition, but hardly for the reason that the MSM is highlighting.
The deal is reportedly worth $400 million, which would put the cost of each UAV at $40 million.
It would be possible to lightly arm the Heron TP-XP to strike terrorist targets, but that wouldn't be optimal utilization of a strategic platform valued at $40 million.