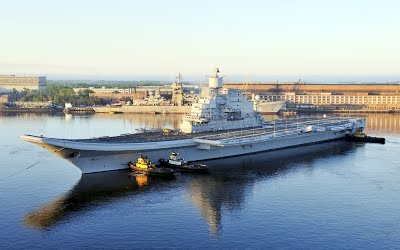 According to data made available to TASS by Russia's Chelyabinsk Research Institute of Measuring and Radio-Technical Equipment, Indian Navy pilots have already conducted over 1,500 landings on INS Vikramaditya using the Rezistor-E landing system which has "performed splendidly."
The Rezistor-E is a radar based air traffic control and precision approach radar system featuring digital channel data exchange with MiG-29K/MiG-29KUB fighters operating onboard INS Vikramaditya. The system has been developed and produced by Russia's Chelyabinsk Research Institute of Measuring and Radio-Technical Equipment.
The Rezistor-E system facilitates safe deck operations even during marginal visibility conditions. The system aids the pilot to fly the aircraft on an optimum glideslope upto to a distance of 30 meters from the flight deck, after which the pilot lands on visual cues.
The Rezistor-E system has also been installed on the indigenously designed and built aircraft carrier INS Vikrant which is currently undergoing trials.
The Russian Navy is set to replace the Rezistor-K42 precision approach system on its Admiral Kuznetsov aircraft carrier - which is currently undergoing repairs at the 35th Ship Repair Plant - with the Resistor-E PAR similar to the one being used by the IN.
The Rezistor-E PAR system installed on Admiral Kuznetsov will use Russian electronics and undergo full-scale trials at one of the two NITKA shore based training facilities available in Russia.
In addition to the Rezistor-E radar based system, INS Vikramaditya is also equipped with the Luna Optical Landing (OLS) system, which provides visual descent glidepath information to pilots through a system of lenses and colored lights in the terminal phase of approach and landing on aircraft carrier, to facilitate touch down accuracy desired to to snag the arrester cables.
The IN wants an improved OLS that is visible from a longer distance than is possible with the Russian Luna system currently fitted. It also wants higher resolution for colored light to ensure clarity.
The Central Scientific Instruments Organization (CSIO) has developed an improved OLS, last known to be undergoing trials at the Goa SBTF. The current status of the indigenous OLS is not known.