Recently, the T-50-3 was observed in new pixelated camouflage pattern with an insignia on the tail depicting a Okhotnik UCAV radio linked to a T-50. (See above)
The T-50-3 featured three new protrusions on the fuselage - A under fuselage sensor slightly ahead of the cockpit, an over the fuselage antenna just behind the cockpit, and an antenna on the underside of the tail boom in between the exhaust nozzles.
The insignia and the protrusions have fueled social media speculation that the aircraft has been upgraded to control and guide LO drones capable of penetrating contested airspace to attack targets or relay targeting data
The ability to control stealthy drones for penetrating heavily contested airspace, or legacy aircraft operating as loyal wing-man weapon trucks is a sixth generation fighter features. For example, the Franco - German - Spanish FCAS, which is planned to enter operational service in 2040, will feature this ability.
Okhotnik (Hunter) UCAV
A see through model of the Sukhoi Okhotnik (Hunter) UCAV was first unveiled by KRET at MAKS-2015. The UAV model closely resembled Northrop's carrier-based X-47B demonstrator, but added two lift fans on each wing and vertical stabilizers.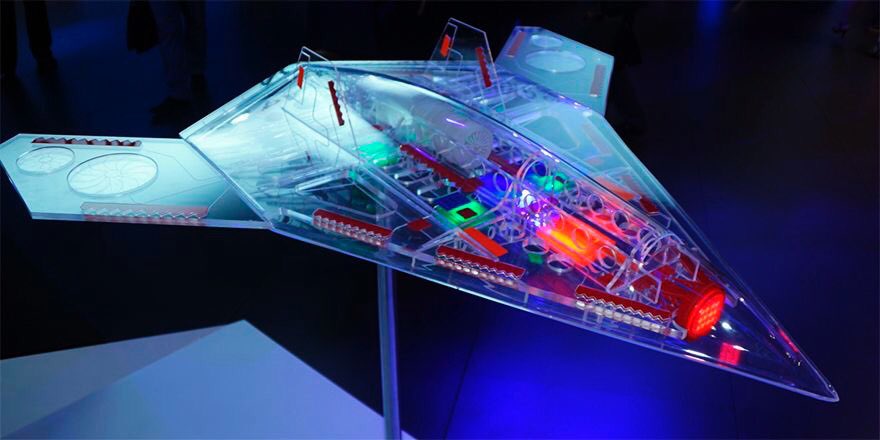 See through Okhotnik model at MAKS 2015 [via Twitter]
The heavy (20t) UAV, reportedly capable of flying at 1000 kph, performed its first T/O run trial at the Novosibirsk Aircraft Production Plant in November 2018 reaching a speed of 200 kph.
Compensating for the Su-57's Lack of All Aspect Stealth
The Su-57 features good front aspect stealth, but not so good side and rear aspect stealth making it a capable head on interceptor, but not such a capable offensive platform. Ground based radars and AWACS would pick up a Su-57 much more easily than they would a F-22 Raptor which features good all aspect stealth.
Good front aspect stealth in combination with L-band leading edge AESA radar and good front sector optronics make the Su-57 a formidable interceptor of LO observable attack aircraft such as the F-22 Raptor, F-35 Lightening 2, and the J-20. In order to keep the aircraft affordable, an economically stretched Russia initially concentrated on the defensive capabilities of the Su-57.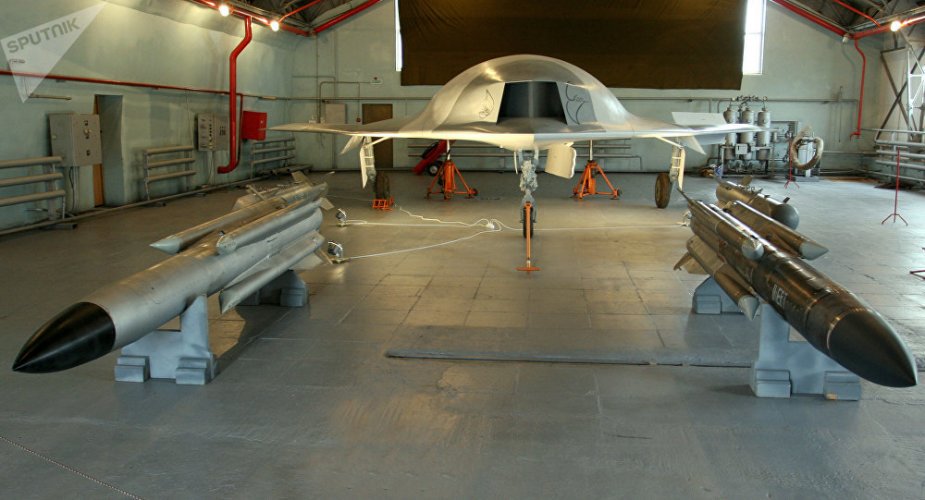 Sukkhoi Okhotnik UCAV (via Twitter)
The ability to guide a LO sensor / attack platform into contested adversary airspace to obtain targeting data would now give the Su-57 formidable attack capability. It would also explain why Russia has invested heavily in developing long range stealthy cruise missiles such as the Kh-59MK2 for internal carriage on the T-50.
The limited weapon load of the very stealthy F-22 Raptor is its greatest shortcoming. By opting for differently-abled stealth platforms specialized for different roles with the ability to work as a single system, Russia may be poised to once again score with its asymmetric approach to countering American economic and technical prowess.